4x4 SKIING IN DOODHPATHRI
Conquer Untouched Snow in a Winter Wonderland!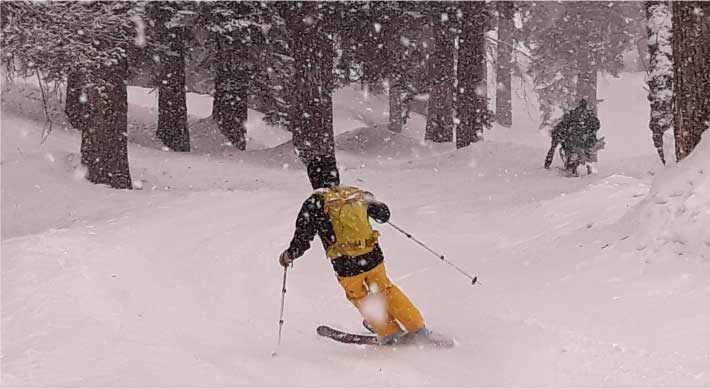 Welcome to the winter wonderland of Doodhpathri, where adventure awaits in the form of 4x4 skiing! Get ready to experience the thrill of gliding through untouched snow amidst the breathtaking beauty of the mountains. At Wildsnow, we've crafted an unforgettable skiing experience that will leave you with memories to cherish forever.

Our day trips from Gulmarg hotels (about 1 1/2 hours) make it easy for you to explore the stunning terrain of Doodhpathri. Picture this: you'll be riding on top-of-the-line 4x4 vehicles, guided by our experienced and enthusiastic team. As you conquer the snow-covered slopes, feel the rush of adrenaline and the joy of speed while surrounded by nature's masterpiece.
But here's the best part—Doodhpathri offers something truly unique. We're talking about tree skiing right from the road! Imagine carving your way through a magical forest, dancing between the trees, and conquering a challenge that only advanced riders can handle. It's an experience that will ignite your passion for skiing like never before.
Although we're still working on arranging accommodations in Doodhpathri, don't let that stop you from joining the adventure. Our pick-up service will whisk you away from your Gulmarg hotel, ensuring a hassle-free journey to the slopes. We've got all the details covered, so you can focus on having the time of your life.
Whether you're an intermediate skier eager to explore new terrain or a seasoned rider hungry for fresh tracks, our 4x4 skiing packages cater to all skill levels. Our team of experienced guides and instructors will be by your side, providing top-notch training and support to help you push your limits and unleash your skiing potential.
And let's not forget about lunch—it's on us! We believe that a satisfying meal is essential to fuel your adventure. So, refuel with a delicious lunch included in the package, keeping you energized and ready to tackle the slopes.
To embark on this thrilling journey, simply visit our shop tab below and book your 4x4 skiing package. Join us for a day trip from your Gulmarg hotel and get ready to embrace the magic of Doodhpathri. This is your chance to create unforgettable memories, to push boundaries, and to discover the true essence of winter adventure. Don't wait any longer—book now and let the excitement begin!