BADDERKOTE -ABOUT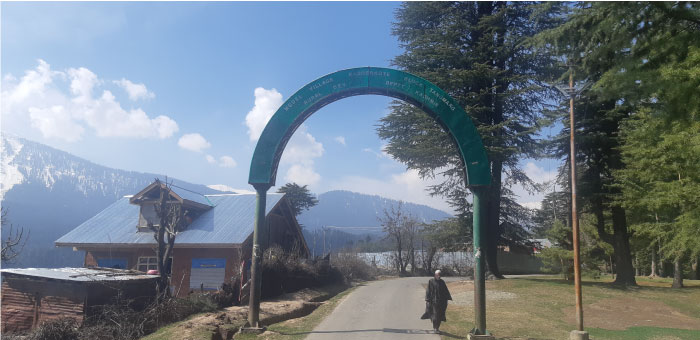 During your Snowmobile Skiing tour at Badderkote, you'll have the opportunity to ski loops of the slopes, allowing you to fully indulge in the thrill of the ride and maximize your time on the snow. Our experienced snowmobile driver will transport you to the designated skiing area, where you'll be free to explore the stunning landscape at your own pace. After each exhilarating run, the snowmobile driver will be waiting to pick you up, ensuring a seamless transition for another thrilling descent.
Badderkote offers a perfect blend of tree skiing and open terrain, providing a diverse skiing experience that caters to all skill levels. Whether you're a seasoned skier or a beginner, you'll find a variety of slopes to challenge and delight you. Glide through enchanting pine forests, carve through untouched powder, and experience the joy of skiing in a truly remarkable setting.

As part of our comprehensive package, we take care of all the details. We provide transport from Gulmarg hotels to Badderkote, ensuring a hassle-free journey to and from the slopes. To keep you energized throughout the day, a delicious lunch will be provided, allowing you to refuel and recharge. After your exhilarating ski runs, we offer light refreshments to celebrate your achievements on the snow.

In addition to its stunning skiing terrain, Badderkote offers a serene and peaceful environment, away from the crowds. Immerse yourself in the beauty of the surrounding mountains and enjoy the tranquility that this hidden paradise provides. It's the perfect escape for skiers seeking a unique and off-the-beaten-path experience.
So, get ready to embark on an adventure like no other. Join us at Wildsnow's Snowmobile Skiing tour at Badderkote, where you'll experience the thrill of snowmobiling and skiing in a captivating landscape. Don't miss the opportunity to explore this hidden gem just a short distance from Gulmarg. Book your adventure today and prepare for an exhilarating journey filled with loops, stunning scenery, and unforgettable memories.