Experience the Thrill of 4X4 or ATV Skiing in Doodhpathri with Wildsnow
Endless Runs and Thrilling Snowbound Excitement!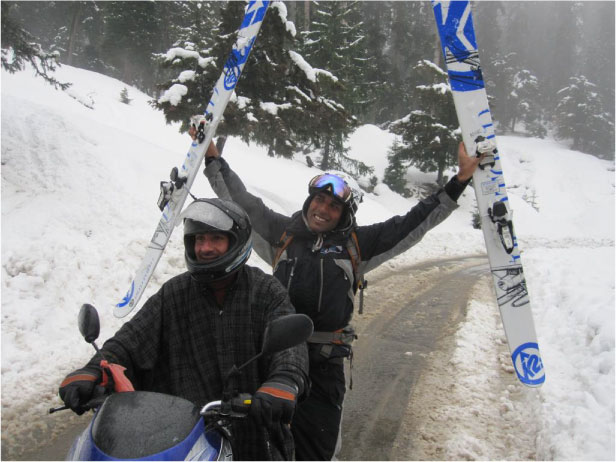 Welcome to the world of winter adventure in Doodhpathri, where you can experience the thrill of 4x4 or ATV skiing amidst the breathtaking beauty of the snow-covered mountains. Wildsnow, the premier winter sports company, offers you an unforgettable skiing experience that you won't find anywhere else.
Unlike traditional skiing, ATV skiing in Doodhpathri offers you endless runs and non-stop action. After each thrilling descent, our skilled drivers will meet you by the road, ready to whisk you back up the mountain for another heart-pounding adventure. With no crowds or tracked out lines, the Doodhpathri ski area is exclusively reserved for Wildsnow, ensuring that you have plenty of space to carve your own path and create unforgettable memories.
Our day trips from Gulmarg hotels give you the opportunity to explore the stunning terrain of Doodhpathri with ease. With our top-of-the-line ATVs and experienced guides, you can navigate the snow-covered slopes and experience the thrill of speed, while surrounded by the beauty of the natural landscape.

One of the unique aspects of 4x4 or ATV skiing in Doodhpathri is the tree skiing accessible right from the road. It offers an unparalleled skiing experience, weaving through the beautiful forest and providing a unique challenge for advanced riders. 
We have partnered with leading hotels in Doodhpathri to offer you convenient and comfortable accommodation options (coming soon). Our shuttle service will take you directly from your hotel to the slopes and back, providing you with a hassle-free and enjoyable experience.
Whether you are an intermediate or an experienced skier, our 4x4 or ATV skiing packages are suitable for all skill levels. Our team of experienced guides and instructors will provide you with the necessary training, ensuring that you get the most out of your ATV skiing experience.
To book your 4x4 or ATV skiing package, please visit our shop tab below. Join us for a day trip from your Gulmarg hotel and experience the thrill of ATV skiing in Doodhpathri. Book your package now and get ready for an unforgettable adventure.